Curriculum
The school is affiliated to Central Board of Secondary Education (C.B.S.E), Delhi and therefore follows the syllabi prescribed by the Board. The medium of instruction is ENGLISH. The curriculum at St. Xavier's International School aims to develop the 21st century skills of self learning and communication. Students enjoy a well rounded educational program which is innovative, flexible and incorporates the rigor and academic quality. It stimulates them to explore within a safe learning environment and ensures that every child emerges as 'WINNER'.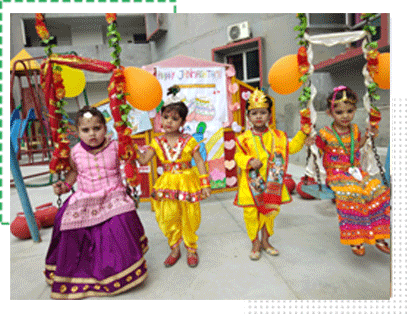 PRE-PRIMARY WING
Nursery to Class II offers a stimulating, caring and relaxed atmosphere of hands- on experimental learning to develop skills that set them on the road to be great learners. Work and play are interwoven to help children explore their curiosity and make every moment a learning experience.

PRIMARY WING
The program continues to develop skills essential for learning such as the development of thinking, communication and self-management. The teachers foster an atmosphere that is personalized and child-centered. The project based learning in the school inculcates a spirit of enquiry that sets children on the path of self-learning.

MIDDLE WING
The program helps young adolescents establish their new found independence. It engages the students in critical thinking, problem solving and developing independent opinion that caters to different learning styles. We encourage them to get involved with their peers and take action so as to help them grow and become responsible citizens. The school believes in an environment of stress free yet joyful learning through a continuous comprehensive system of evaluation of activities and projects in academic learning.

SENIOR WING
The program supports students to identify their potential as they prepare to enter the world of work and responsibility. The system is designed to appreciate and acknowledge students for their creativity and research skills and they grow to be discerning young adults with values and principles that contribute to community and the environment
EXAMINATION SCHEDULE:

FIRST TERM
PERIODIC TEST-1(PT 1)-20 MARKS
PERIODIC TEST-2(PT 2)-20 MARKS
TERM ONE EXAMS-        80  MARKS
OVERALL GRADE
(PT 1+PT 2)/2 = 10 MARKS
NOTEBOOK = 5MARKS
SUBMISSION
SUBJECT      = 5 MARKS
ENRICHMENT
TERM ONE    = 80 MARKS
TOTAL          = 100 MARKS
SECOND TERM
PERIODIC TEST-3(PT 3)-20 MARKS
PERIODIC TEST-4(PT 4)-20 MARKS
TERM TWO EXAMS-        80 MARKS
OVERALL GRADE
(PT 3+PT 4)/2 = 10 MARKS
NOTEBOOK = 5 MARKS
SUBMISSION
SUBJECT      = 5 MARKS
ENRICHMENT
TERM TWO    = 80 MARKS
TOTAL          = 100 MARKS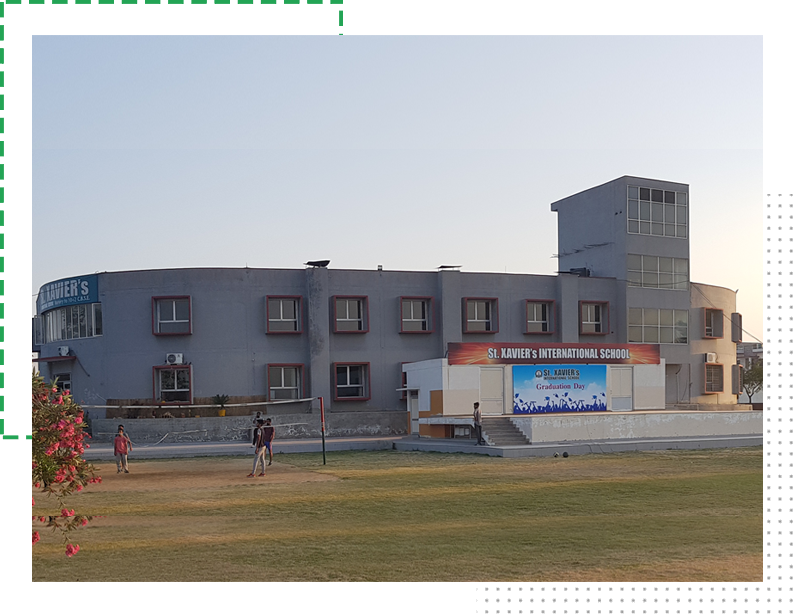 CURRICULUM
The academic curriculum is strongly supported by co-curricular activities. All students are required to opt for a performance based work experience from a wide range of creative activities available to all the students from Nursery  to Std. XII.Winter carnival is to be organized every year on the Christmas Eve for fun and frolic. A separate activity schedule for pre-primary, primary and senior classes are planned and implemented for each session.
THE SCHOOL HAS SEVEN CLUBS »
Literary Club
Eco Club
Science Club
Sports Club
Art Club
Mathematics Club
Information and Technology Club
CO -CURRICULAR ACTIVITIES
Co-curricular activities are instrumental for drawing out the best potentialities of the child. It ensures that students are exposed to practical tasks, not just what is taught in the class. Extracurricular activities enrich the student's personality as it includes voluntary involvement. An extracurricular activity helps a student with responsibility and time management.These activities help to improve the academic scores as well as social life. These activities are entirely instrumental in building self–esteem and leadership quality.
At Xavier's, we believe in working with students to create future global citizens who are not only well educated, but also well-rounded.To help reach that goal, we divide all of our campuses into four houses. Students are placed into a house, and inter and intra-school competitions, allow them to compete against other houses in academics, performing arts, fine arts, literature, and sports. These school and house activities help students showcase their learning while also developing a sense of teamwork and pride in individual accomplishments.
"The arts are an essential element of education, just like reading writing, and arithmetic…music dance, painting, and theatre are all keys that unlock profound human understanding and accomplishment" (William Bennett, Former US Secretary of Education).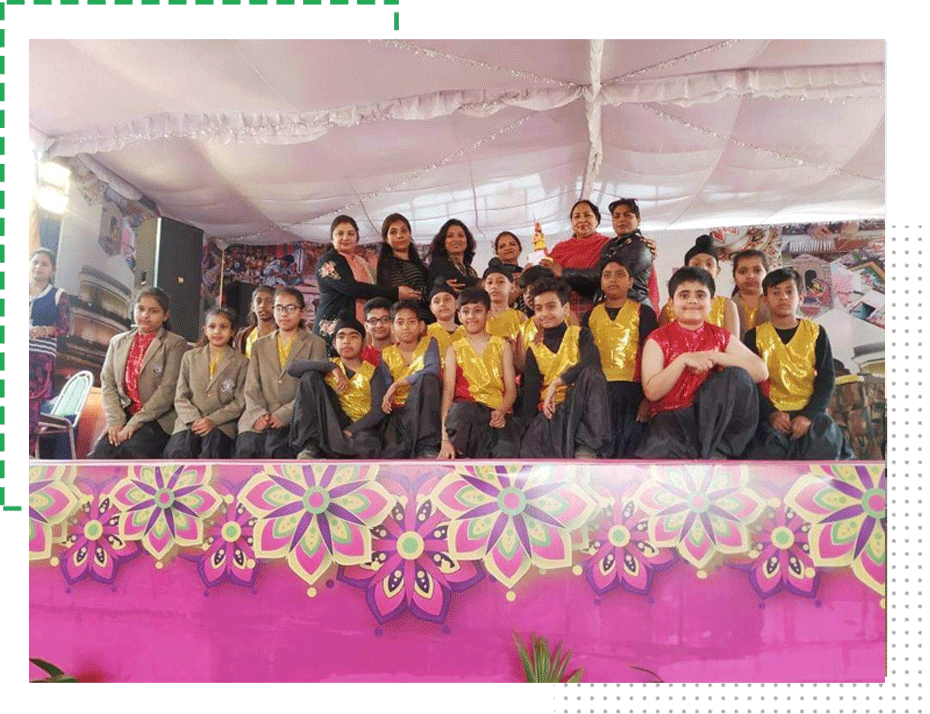 WORKSHOPS
A teacher is a learner before he/she is a teacher. The spirit of bettering oneself is what defines an educationist. In this regard, it is essential for teachers to upgrade themselves, attain a set of differential skills, and improve upon practiced strategies
A workshop is a great way for teachers to learn about a particular subject, new projects, and methods in order to enhance their knowledge and skills and implement the same for the betterment of students.
In order to upgrade and enhance the skills, workshops are held from time to time in St. Xavier's International School. The highly knowledgeable resource persons are invited to help the teachers polish their skills. They emphasize on the need for Experiential Learning, a strategy to make learning more enjoyable for students. The sessions are very informative and interesting, and has helped the teachers in their compilation work and make the usage of best teaching methods.
ECO CLUB
Eco club in the school provides a unique opportunity that empowers pupils to lead change, raises environmental awareness, improves the school environment and also creates financial savings for schools. It engages the wider local community, links to the curriculum and helps in having a positive impact in their wider community.St. Xavier's International School has initiated a small step to create and develop awareness and a sense of ecological environment among the students by introducing an Eco-club in the school . It is also a noble responsibility to inculcate the benefits of raising plantation, kitchen garden etc in a student's mind and to take different biodiversity improvement measures through different activities of our eco-club.
READING CLUB
'Books are the quietest and most constant of friends; they are the most accessible and wisest of counselors, and the most patient of teachers'. -Charles W. Elio-
Studies show that reading for pleasure makes a big difference to children's educational performance. Likewise, evidence suggests that children who read for enjoyment every day not only perform better in reading tests than those who do not, but also develop a broader vocabulary, increased general knowledge and a better understanding of other cultures.
Book clubs are a great way to engage students with reading and help build a reading culture in the school. By sharing and reading books, children will develop fluency to read smoothly and with expression, learn new vocabulary words, enhance their writing and listening skills as well as be exposed to new ideas and concepts. At St.Xavier's we want to develop every child's passion for reading. For that we have introduced a Reading club in the school in which the children are encouraged to read different types of books to develop their reading skills, expand their knowledge and become inspired. For this a huge range of high quality books are made available to the students in our library . The students get the books issued in their library period and return the books after reading. They write a short review of the book in their notebooks along with the meanings of the difficult words they come across while reading. The children not only enjoy but also cultivate the habit of self-learning. It also helps in improving their concentration thereby helping them in their regular studies.
SPORTS
"Only he who can see the invisible can do the impossible." – Frank L. Gaines
Several studies suggest playing sports develops a child's self-confidence and self-esteem. A pat on the back, high-five from a teammate, or handshake after a match really boosts a child's confidence. Words of praise and encouragement from the coach, parents and other players raise the self-esteem.
As a school, we are centred on inspiring achievement and personal fulfilment, building confidence and enabling all our students to thrive for success in every field of life.In doing this, we take every opportunity to celebrate the many successes of our students, regularly praising them for doing well and showing commitment to their chosen activities both within and outside of school.
Physical Education is an integral part of the total education system. It helps in the attainment of the ultimate aim of education i.e. the achievement of holistic development. Our approach to personalised learning includes not only a dynamic curriculum but a broad sports spectrum.
We encourage our students to take advantage of these opportunities to broaden their horizons and inspire them to achieve their goals and reach their full potential.
STREAMS FOR CLASSES XI AND XII
Streams for classes XI and XII
The  school runs classes up to +2 stage, syllabi and books prescribed by the C.B.S.E  only are followed in these classes. After class X, a student can choose one of the following groups from the academic stream:-
1. English (core course)

a) Medical group

2. Physics

3. Chemistry

4. Biology

5. Physical Education/

Or

Information Technology

c) Humanities Group

2. Economics

3. Political Science

4. Punjabi

5. Geography

6. Psycology

7. Physical Education/

Or

Information Technology

For All groups

1. Physical and Health Education

2. Work Experience

3. General Studies

b) Non Medical Group

2. Physics

3.Mathematics

4.Chemistry

5. Physical Education/

Or

Information Technology

d) Commerce Group

2.Economics

3.Buisness Studies

4.Accountancy

5. Physical Education/

Or

Information Technology